Are Your Facebook Ad Campaigns On Life Support?
I watched an alarming segment on the news this week, which reported that half a million Ambulance-hours were wasted in the UK last year, due to waiting time. And it would be easy to blame the Ambulance services for this shocking statistic, wouldn't it? Imagine how many lives could be saved, or made better if those half million hours were being used as they should be!
But it transpires that this is just the news-grabbing symptom of an insidious underlying chronic disease. The disease starts with Ambulances often having to wait for many hours outside hospitals unable to deliver their patients into A&E because the hospitals are short of beds. The hospitals are short of beds because they can't discharge the patients, who are waiting to leave, in a timely manner. Patients can't be discharged in a timely manner because Social Care for patients following on from their stay in hospital is on its knees, due to budget cuts.
Anyway, the point of all this?
You can see that it's like some sort of dicing-with-death game of Dominoes. No one piece can work in isolation, and when one topples over, the whole system comes crashing down.
And your Facebook Ad campaigns might be on life support with this misdiagnosed chronic disease too.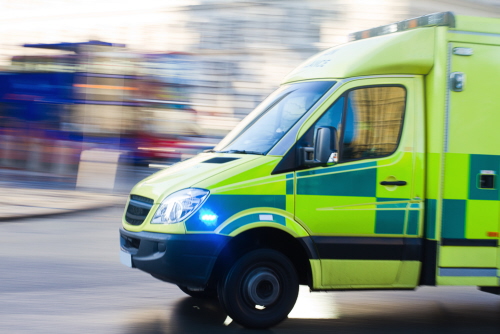 You fire up the ads, only to get disappointing results. It would be easy to blame the ads, wouldn't it? But like those half-million wasted Ambulance hours…you have to look at the WHOLE system to see where the true problems are.
The outcome of your ad campaign is only as good as the Landing Page you're driving the traffic to, or the follow up emails people receive after they've opted in from your ad, or the sales page they get sent to when you come to make the sale.
In truth, to make the leap from mediocre to good you have to examine your Campaign with scalpel-like precision AT ALL POINTS. To make sure the message is congruent throughout and that each next step feels logical and compelling for your prospect to take.
The more I have worked with clients, the more apparent it has become to me that to JUST offer Facebook Ads management is to do them a disservice. Because although it's the symptom the clients come to me with (usually phrased as 'I just need more traffic' or 'I could use more leads') I often find that the Landing Pages, follow up emails and salespages are not in good enough health themselves to support the Facebook Ads.
This is why I have decided that I shall be offering a more comprehensive package to include MORE than just the Facebook Ads management. I have actually been doing this informally with previous clients to help them get better results from their ads. But I've realised that it's now time to make it a formalised offering, so it gets treated with the value it deserves!
It won't be for everyone. You may already have a well crafted proven converting funnel set up, in which case more traffic IS perhaps all you need.
It won't be cheap. Because it takes many, many hours of research, hard graft and knowledge to know how this all slots together like a well oiled set of cogs, rather than a discordant jumble of broken rusty pieces.
It won't be offered to many clients. This is a high end service, so in order for me to achieve my best results it will be limited to just a few, and it will be by application only, so we both know it's the correct fit for us.
More detailed announcements about this will be coming soon!
If you'd like to be put on the Priority Notification list for this, CONTACT ME and you'll be the first to know when I'm opening up slots – which will be a maximum of TWO initially.